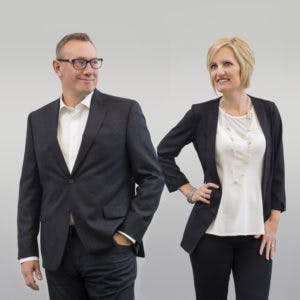 "It's not easy deciding who to trust when buying or selling a home. We are top real estate agents that live and work in Chilliwack who will set and negotiate the best price for your property and help you thoroughly understand the local real estate market. We will quickly respond to your needs, help you find listings in and around Chilliwack & the Fraser Valley before they're public, mind every little detail, and earn your respect for life. Whether you're selling your current property or buying your dream home, we'll make sure your experience with us is a good one with a great outcome!"
Clarke & Kim Mallory are a husband and wife team with Rennie & Associates Realty representing Chilliwack and the Fraser Valley. They have lived and worked in Chilliwack for over 20 years and serve buyers and sellers throughout the Fraser Valley Area specializing in resale residential & luxury homes.
Clarke has a background in accounting & finance. Kim has a background in business & marketing. Their combined skills provide their clients with a robust service and expertise in social media, modern marketing, photography, networking, research, negotiation, stats & market insight.
Driven and passionate they work hard to ensure that their clients go into each decision with peace of mind prepared with all the information they need to feel confident in making sound decisions.
With hard work, compassion & a sense of humour they put their hearts into everything they do. Their greatest success is in knowing that the best possible outcome has been achieved and that the experience was fun and enjoyable for their clients.