1. LESS INVENTORY
Contrary to popular belief winter is a great time to list. Spring is the time where "everyone" lists their houses for sale but more inventory in the Spring means more competition when it comes to selling.
2. SERIOUS BUYERS
Buyers who actually get out and battle cold and ice during the winter months to go house hunting are serious!
3. RELOCATION
The slower winter months are a popular time for relocating. These buyers are in a time crunch & are motivated to make quick decisions!
4. WINTER AMBIANCE
Put that fireplace & candles to good use! Your house is super cozy in the winter. Furry blankets on the coach and warm lighting can create the ideal ambiance for Buyers.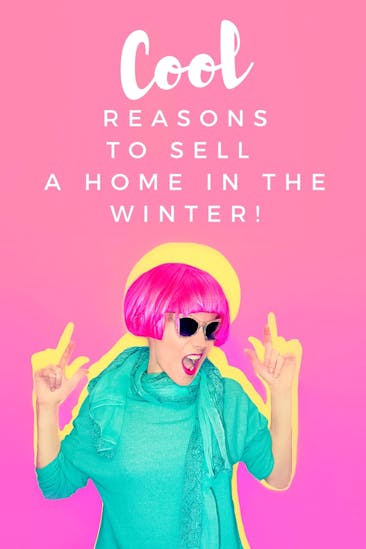 5. NEW BEGINNINGS
New Year, New You. Many of us look at the arrival of January as a time of new beginnings. So in between visits to the gym and eating healthy food, a new home purchase might be just the thing to ring in a new year. And if you've been meaning to downsize or move to a different neighbourhood, this is a prime opportunity to start fresh.
6. ENERGY EFFICIENT
If you've invested in making your home energy efficient, winter is a great time to sell your upgrades! Potential Buyers will appreciate a high-efficiency furnace, new windows and attic insulation – especially in the winter.
7. FEWER PROPERTIES
Fewer properties on the market means that you will likely be one of only a few houses on the market in your neighbourhood and it will stand out when it comes to marketing!
8. YOU DON'T HAVE TO CUT THE GRASS!
Curb appeal matters, and turning on twinkly lights is so much easier than weeding your garden every day! Of course you may need to shovel snow but isn't that better than mowing the lawn?
9. FEWER SHOWINGS
I know, that sounds counter-productive but if you had a choice between 100 people traipsing through your house or 30 qualified and motivated buyers what would you choose?
10. SERVICE
Real estate agents are readily available during winter months and have more time and energy to focus on YOU!
If you would like to discuss the pros and cons of selling in the winter and get an idea of what your home is worth – get in touch. It's never too early to start planning!
Call: Kim 604-316-3635 or Clarke 604-316-9917
Email: ckmallory@rennie.com